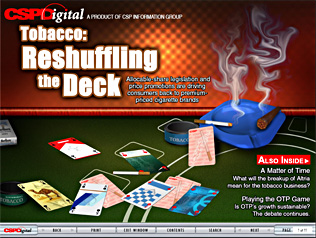 CSPDigital: Tobacco
CSPDigital's latest issue takes a close look at what's happening in the c-store industry's most important, and most challenging, category. Legislation, supplier divestitures and acquisitions, new product development, market share shifts – you name it, it's taking place in the tobacco category.
In This Issue:
Reshuffling the Deck: A drastic reduction in the relative price gap between first and fourth tier cigarette brands has gone a long way toward creating a more level playing field .
A Matter of Time: Philip Morris USA likely will soon be spun off from the Altria Group and become its own company. What does that bode for the tobacco industry?
Playing the OTP Game: MST continues to grow, but what does the future hold?
Video clips, audio messages and much more…


Simply right-click the link below and choose "Save Target As" to save the pdf to your desktop. Please allow 1 to 2 minutes for the magazine to download.

For technical assistance with downloading:
Please call 212-647-0396 ext. 5 or email digitalsupport@cspnet.com

Viewing Requirements:
CSPDigital requires a high-speed Internet connection and Adobe Acrobat Reader 6.0. or above.To download the free Acrobat Reader, click here.
Sound must be turned on to hear audio messages.
For optimal viewing, please set your screen resolution to 1024 x 768 (recommended)
After reading this issue, click here to share your feedback on this and other editions of CSPDigital.