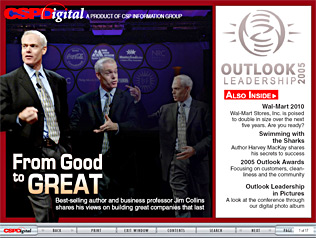 CSPDigital: Outlook Leadership 2005
Welcome to CSPDigital's Outlook Leadership 2005 edition, an information-packed online magazine offering you an up-close look at the events, presentations and activities at the 2005 Outlook Leadership Conference, held in Salt Lake City .
In This Issue:
From Good to Great : Business professor and best-selling author Jim Collins joins a group of the industry's best and brightest, including Sheetz Inc.'s Steve Sheetz , QuikTrip Corp.'s Terry Carter and Wawa Inc.'s There DuPont in discussing what makes good companies great companies.
Wal-Mart 2010 : Retail Forward's report on where the retailing giant is headed.
Swimming with the Sharks : Business leader and author Harvey MacKay shares his views on surviving in a tough business environment.
2005 Outlook Leadership Awards
Video clips, audio messages and much more…


Simply right-click the link below and choose "Save Target As" to save the pdf to your desktop. Please allow 1 to 2 minutes for the magazine to download.

For technical assistance with downloading:
Please call 212-647-0396 ext. 5 or email digitalsupport@cspnet.com

Viewing Requirements:
CSPDigital requires a high-speed Internet connection and Adobe Acrobat Reader 6.0. or above.To download the free Acrobat Reader, click here.
Sound must be turned on to hear audio messages.
For optimal viewing, please set your screen resolution to 1024 x 768 (recommended)
After reading this issue, click here to share your feedback on this and other editions of CSPDigital.