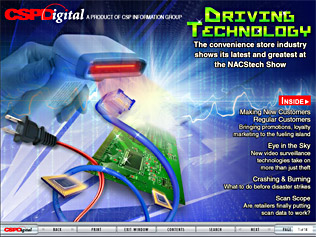 CSPDigital: Technology Edition
CSPDigital's latest issue provides an up-close look at this year's NACStech Conference. Read on-site coverage of educational sessions, including exclusive video interviews and audio clips, as well as a photo album with pictures from the tradeshow floor.
In This Issue:
Merchandising at the Fuel Island: How retailers are convincing fuel-only customers to shop their stores through dispenser coupon printers and loyalty programs.
Security: Video-surveillance systems offer more than just a deterrent to crime. Today, video cameras and digital video recorders have a role in merchandising and operations.
Planning for Disaster: Hurricanes? Fires? What to do when disaster strikes and – more importantly – how to keep your company up and running in the event of one.
Scanning Data: After years of talking about the benefits of point-of-sale scanning, the convenience channel is beginning to make the most of it.
Video clips, audio messages and much more…


Simply right-click the link below and choose "Save Target As" to save the pdf to your desktop. Please allow 1 to 2 minutes for the magazine to download.

For technical assistance with downloading:
Please call 212-647-0396 ext. 5 or email digitalsupport@cspnet.com

Viewing Requirements:
CSPDigital requires a high-speed Internet connection and Adobe Acrobat Reader 6.0. or above.To download the free Acrobat Reader, click here.
Sound must be turned on to hear audio messages.
For optimal viewing, please set your screen resolution to 1024 x 768 (recommended)
After reading this issue, click here to share your feedback on this and other editions of CSPDigital.