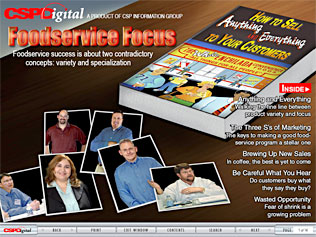 CSPDigital: Foodservice Focus
CSPDigital's latest issue takes you into a roundtable discussion with retailers and suppliers in the foodservice category, delving into such subjects as product assortment, marketing, promotion, new product development and waste control.
In This Issue:
Anything and Everything: How to walk the fine line between product variety and developing a focused specialty.
The Three "S's" of Marketing: The keys to making a good foodservice program a stellar one.
Brewing Up New Sales: In coffee, it appears the best is yet to come.
Be Careful What You Hear: Do customers really buy what they say they buy?
Video clips, audio messages and much more…