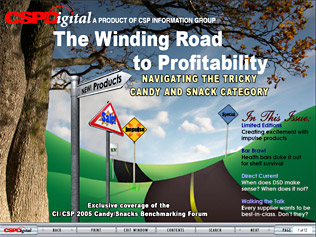 CSPDigital: CI Candy/Snacks Roundtable
CSPDigital's latest issue, Convenience Insights Candy/Snacks Roundtable, takes a look at retailers' and suppliers' concerns and recommendations in managing the candy and snacks categories. For this issue, CSPDigital spent a day with a group of category experts discussing the findings of the 2005 CSP/ CI Candy/Snacks Survey. Convenience Insights is a joint venture between CSP Information Group, Inc. and Gerke Associates.
In This Issue:
Limited Editions: Limited-time products are a sound strategy for incremental sales, but also a merchandising challenge.
Bar Brawl: The battle of the bulge found its way into the healthy snack category in 2004.
Direct Current: When does DSD make sense, when does it not?
Walking the Talk: Retailers want marketing support from manufacturers - but not always in the typical way.
Video clips, audio messages and much more…